2016 National Examination for Certified Public Accountants (Professional Stage) Held Successfully
ATA Creates Another World Record in Computer-based E-testing and Assessment
Date of Release: October 17, 2016
On October 15 and 16, the 2016 National Examination for Certified Public Accountants (Professional stage) was held successfully at the same time in mainland China, Hong Kong and Macao. More than 924,000 candidates registered the CPA test and took more than 2.463 million tests at 9,532 test rooms in 913 test sites. The 2016 National Examination showed exponential increase in all indices when compared with the 2015 National Examination, creating another world record in computer-based testing with the largest number of candidates in a single weekend.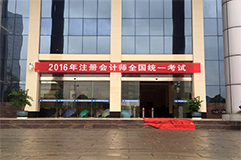 During the test period, the Examination Office of the Ministry of Finance and the Chinese Institute for Public Certified Accountants set up the General On-duty Room, while each locality set up local On-duty Room to deal with emergency and abnormal situation. At the same time, ATA sent more than 20,000 supervisors, technical support and customer service staff for on-site invigilation, organization, management, service guarantee and technical support in all test rooms and sites across China. ATA also coordinated the efforts of local government departments of public security, power supply, medical treatment, and radio management to offer services and security guarantee.
The CPA National Examination in recent years draws increasing social attention. The increasing number of candidates, however, poses great challenges in guaranteeing the security of the test and providing quality services to candidates. Under the guidance of the Chinese Institute for Public Certified Accountants, ATA constantly improves technologies and enhances service quality. It implements precision management in pursuit of perfection in test organization and delivery and in guaranteeing the technology and test security. It works hard to ensure that the CPA National Examination can be held in a fair, just and smooth manner.
ATA always places emphasis on providing services to candidates. Putting people, particularly candidates, first when handling each detail in test delivery, ATA takes a friendly attitude towards candidates in streamlining, integrating and improving each of its works. Its efforts further provide conveniences to candidates and improve the quality of serving them.

People and measures for guaranteeing the test services
Test sites across China
The successful holding of the 2016 National Examination for Certified Public Accountants again demonstrates the absolute strength of ATA in the field of large-scale unified computer-based test services. Having devoted itself to providing testing and assessment services for 17 years, ATA has developed its own unique testing and assessment technology and service-providing capability. ATA is capable of delivering more than 10 million tests annually, and has delivered a total of more than 78.9 million tests. With its absolute strength, ATA takes the lead in the field of offering computer-based e-testing assessment services in China and even in the world.
(If there is any inconsistency or conflict between the English and Chinese version, the Chinese version shall prevail.)