Learning-oriented Assessment Drives the Future of Education
ATA CEO Kevin Ma Invited to Deliver a Keynote Speech on the "820 China Education Festival"
Date of Release: August 23, 2016
On August 20, 2016, the Fourth China Education Festival sponsored by Junhsue China was unveiled in Shanghai International Convention Center. In attendance to the event were more than 4,000 participants from all walks of life, including leaders from governments, enterprises, educational institutions and universities, as well as experts, scholars, educators, parents and children.
Kevin Ma, ATA's Chairman and CEO, was invited to attend the opening ceremony and delivered a keynote speech titled "Learning-oriented Assessment Drives the Future of Education", sharing with thousands of visitors the assessment-based education and teaching trend. During his speech, he said that in the "Internet+" era, the assessment of education is shifting from "talent selection" to "learning promotion", and a decade ago, the purpose of education assessment or testing was simply to identify and select talents; and in this new era, the combination of big data and assessment will profoundly change the traditional education/teaching pattern and education assessment. Education assessment is undergoing some dramatic changes today: from "summative" to "procedural", from "single result feedback" to "multi-dimensional diagnostic feedback", and from "identifying and selecting talents" to "promoting learners for better learning and development". The learning-oriented assessment is a cognitive assessment based on big data mining with multidimensional knowledge graph as the center. Its aim is to, through periodic testing and assessment, diagnose the learning status and result of students and garner feedback in a dynamic way, and help training institutions and teachers gain a thorough understanding of teaching effectiveness and individual differences, thus enhancing teaching quality and learning performance.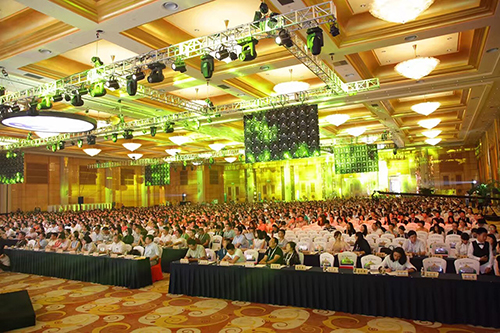 "820 China Education Festival" is China's first private education festival named after a specific date. As a large-scale comprehensive education event attended by private education institutions from more than a dozen countries and regions worldwide, this festival attracted over 4,000 private school managers and investors from across the country this year, focusing on critical issues of private education development from different perspectives and insightful discussions on the big trends of education industry. It is mainly concerned with adding better operation and development solutions and management methods to China's private education, and making due contributions to promoting a standardized, professional, brand-oriented and commercialized private education system, and building world-class modern private education institutions with Chinese characteristics.
This event is focused on "education +" and the exploration of cross-border integration between education and other industries. The participating guests have discussed with each other about quality education, technological education, education economy, education environment and other topics relating to "education +", with an aim to providing opportunities to enabling exchanges and consolidation of advanced education resources.
(If there is any inconsistency or conflict between the English and Chinese version, the Chinese version shall prevail.)