Resume is Over the Hill? Big-Data Precise Match will be Realized in Future Talent Recruitment
ATA Attends the 10th Annual Conference on Human Resource Management to Share the New, Data-based Idea of Precise Talent Recruitment
Date of Release: July 11, 2016
On July 8, the 10th Annual Conference on Human Resource Management took place in Hangzhou. More than ten heavyweight figurecelebritiess from the field of human resources attended the conference and delivered keynote speeches. Also present at the conference were over 300 senior HR professionals of leading enterprises from various industries, who analyzed the latest trend and successful management experience in the field of HR management and shared their insights with the guests present.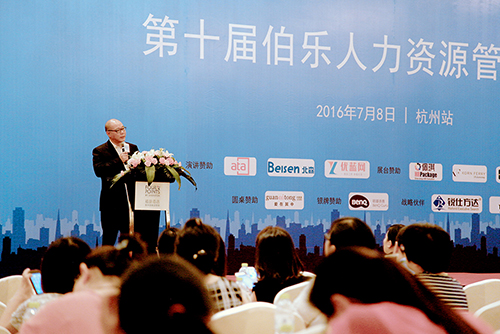 As China's leading testing and assessment service provider, ATA Online, at the invitation of the sponsor, attended this year's annual conference. Mr. Sun Yue, Vice President of ATA, delivered a keynote speech titled "Precise Talent Recruitment Based on Data". He stated that, in the era of big data, creating the personalized data attributes and labels for each individuals has become a reality - endowing individuals with the data attributes and labels in the assessment results and process from different dimensions such as knowledge, capability, character and post match degree through intelligent testing and assessment, and matching them by utilizing big data and the recruitment post competency model of enterprises so as to realize precise match and push of enterprise talent recruitment. Such talent recruitment model will make future enterprise talent recruitment and talent development more scientific and efficient. In addition, Mr. Sun Yue, based on the classic cases in the enterprise campus recruitment unified examinations of China Mobile and Sinopec and other large state-owned enterprises, shared with the guests the latest trend of campus recruitment of large enterprises.
Sponsored by Enfovia, the 10th Annual Conference on Human Resource Management, focusing on the topics such as talent assessment, talent recruitment, and enterprise human resource management, invited several heavyweight figures celebrities in the field of human resource management to deliver keynote speeches such as "Precise Talent Recruitment based on Data Analysis" by Mr. Sun Yue, Vice President of ATA, "How Corporate Culture Affects Talent Strategy" by the senior HR director from Alibaba, and "Cultivation of Post-90 Young Leaders by the representative of Ctrip University, which received high attention and triggered warm discussions among the HR professionals present.
Enfovia is a high-end human resource membership organization in China, featuring professionalism, high value, and great influence. It is committed to building industry information sharing platforms, spreading the industry's cutting-edge theories and innovative ideas, providing the HR professionals in China and Asia Pacific with high-end learning and communication platforms, and promoting the healthy development of the industry. As China's leading testing and assessment service provider, ATA will give play to act upon its core technologies and capabilities developed in the field of testing and assessment to and continue to commit itself to helping test sponsors and employers to improve their capabilities and efficiency in talent assessment, selection and management in the big data era of human resource management, thus promoting the in-depth combination integration and rapid development of talent recruitment, human resource management and talent data operation in the talent recruitment industry in the future.
(If there is any inconsistency or conflict between the English and Chinese version, the Chinese version shall prevail.)