ATA Wins the Award of "Star of Business Model" at "2016 Award-Granting Ceremony of NEEQ Future Star Billboard"
Date of Release: June 30, 2016
On June 29, the "2016 Summit of NEEQ Leaders and Award-Granting Ceremony of NEEQ Future Star Billboard" was held in Shanghai. As China's leading testing and assessment service provider, ATA Online (ATA) was presented the award of "Star of Business Model" for its unique business model, excellent performance and constant growth. Mr. Zhao Shuqiu, executive vice president of ATA, was invited to attend the ceremony and received the award on behalf of ATA.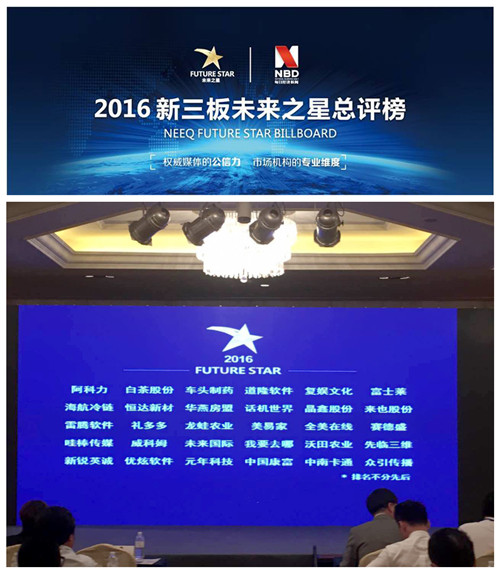 The "2016 Summit of NEEQ Leaders and Award-Granting Ceremony of NEEQ Future Star Billboard" was hosted by National Business Daily and co-sponsored by Shenwan Hongyuan Securities Research Institute. The review committee of this selection activity composed of more than 100 specialized organizations, which gathered representatives of almost all industries on the NEEQ, including leading securities broker, public offering fund, private placement organization, accounting firm and law firm. The selection activity assessed NEEQ-listed enterprises from various dimensions, outlined the overall situation of the market, explored the potential value of enterprises, and promoted the sound development of the NEEQ market. The selection activity of "2016 NEEQ Future Star Billboard" lasted for three months. The sponsors assessed the companies listed on NEEQ from various aspects, and finally selected winners for six awards through fair and open procedures. A total of 180 excellent listed companies won the six awards, with 30 companies for each award. These NEEQ-listed companies are from various industries, well-established in their respective fields, representative of organizations which have capitals of trillions of yuan, and are mostly leaders in their respective industries. As there are more than 7,000 NEEQ-listed companies, the winners account for only two percent of the total NEEQ-listed companies. The selection activity can be said to have selected the best of the best candidates.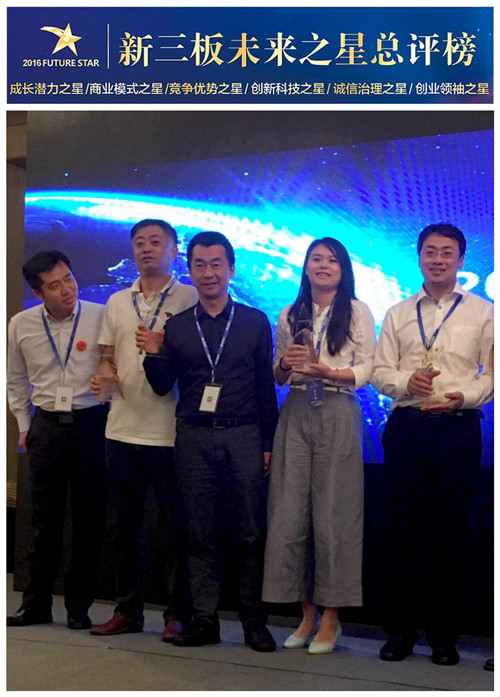 ATA was formally listed on NEEQ in December 2015. As the leader of China's testing and assessment service industry, ATA covers all kinds of business in the industry of computer-based smart testing with the technology and the advantages in terms of operation and channels it has accumulated over a long period of time in the field of e-testing services. It has formed a unique barrier. ATA delivers satisfactory business performances, and ranks among the top NEEQ-listed companies in terms of net profit, profit margin on net assets, compound growth rate of operating revenue, operating revenue, capital stock, market value, shareholder's equity, and the number of market makers.
ATA provides testing and assessment services to government departments, industrial associations, state-owned large-scale organizations, education and training organizations, foreign-invested enterprises, and multi-nationals. Its services incorporate qualification and certification, standard assessment, campus recruitment, talent assessment, continuous education and online learning. These services cover many industries including finance, manufacturing, service, medicine and health, information, and petrochemical industry.
ATA was presented the award of the "Star of Business Model" at "2016 Summit of NEEQ Leaders and Award-Granting Ceremony of NEEQ Future Star Billboard." The sponsor and selection organization provided the following reasons for giving the award: "ATA delivers outstanding and excellent performances in terms of its value proposition, target consumer groups, distribution channels, client relationship, value allocation, core competency, value chain, cost structure, revenue model and fission model."
This summit of leaders brought together representatives from more than 200 listed companies, dozens of star chairmen of boards of directors, well-known securities brokers, many public offering organizations and private placement organizations. At the summit, enterprise representatives, persons-in-charge of securities brokers, heads of various organizations brainstormed to find the growth path for small and medium-sized enterprises, and shared their ideas and plans for the development of NEEQ market.
(If there is any inconsistency or conflict between the English and Chinese version, the Chinese version shall prevail.)