ATA's Occupational Style Test and eTest Debut at 2016 HRoot China Human Resource Service Expo
Date of Release: May 6, 2016
As the leading testing and assessment service provider, ATA Online attended the first leg of the 2016 HRoot China Human Resource Service Expo in Shanghai on May 5. Being one of the world's largest professional HR service expos, this event has attracted hundreds of enterprises, with thousands of HR managers, experts and buyers; providing on-site consulting service, introducing solutions and demonstrating products.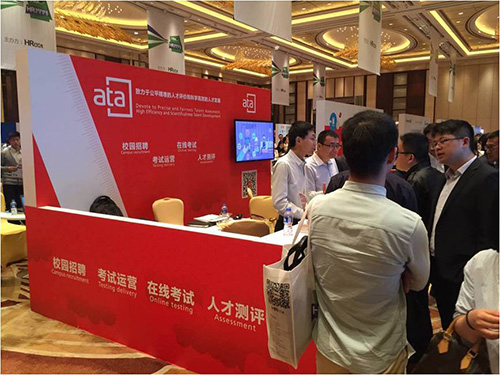 At the event, ATA demonstrated its latest most reliable and efficient testing and assessment product – "Wave®", which has been applied in its cloud-based online testing product ezTest, providing a perfect set of solutions of "content + platform" for the enterprises to recruit and evaluate talents and helping them meet their needs of talent recruitment in a more accurate, easy, and convenient manner.
ATA Saville Consulting Wave, developed by Prof. Peter Saville, the co-founder of SHL, and professionally certified by BPS (British Psychological Society), can comprehensively evaluate the traits and inclinations of individuals in five aspects: personality, capability, motive, competency, and corporate culture and environment adaptability. Finding wide application in social recruitment, campus recruitment, internal recruitment through competition and other talent selections, the product has greatly improved the accuracy of HR talent selection for enterprises. This time, ATA has equipped its cloud-based online testing product ezTest with Wave® and demonstrated to the guests and enterprise HR managers present its brand new model of accurate talent recruitment based on mobile Internet and big data, allowing them to experience the development, application and popularization trend in the enterprise talent recruitment and assessment field which is becoming more convenient and efficient.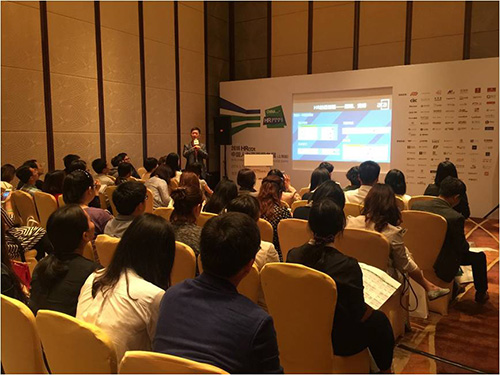 At the same time, themed on talent assessment and online recruitment, ATA delivered a keynote speech, creating a new perspective for the testing and assessment model of enterprise talent recruitment and attracting great attention from the guests present and triggering an active interaction between guests and enterprise HR managers. And the solution to ezTest combined with Wave® also enabled enterprise HR managers to experience a trustworthy and efficient assessment product and a convenient testing platform at the same time, thus winning the favor and attention of many enterprise HR managers.
It is worthwhile to mention that since its launch in July 2015, ATA ezTest has been widely used and praised by many customers. Lenovo, Canon, UnionPay, CPIP and many other well-known enterprises have chosen ezTest as their testing platform for campus recruitment and internal assessment. With less than four months, ezTest has served nearly one thousand registered enterprises. Dozens of enterprises are applying ezTest for campus recruitment, involving more than 100,000 candidates.
In recent years, the new talent recruitment model based on e-testing and assessment has become more and more popular. With the development of cloud computing and big data, ATA will give play to its core technologies and advantages developed in the testing and assessment field to provide a development blueprint for millions of talents and more efficient and accurate talent and post matching data and to serve more employers and job seekers.
(If there is any inconsistency or conflict between the English and Chinese version, the Chinese version shall prevail.)