ATA Attends the Envofia-Sponsored 9th Human Resource Management Conference
Date of Release: April 25, 2016
On April 22, Envofia held the 9th Human Resource Management Conference in Suzhou. ATA Online, as China's leading testing and assessment service provider, was invited to attend the event. During the conference, a dozen of HR experts presented speeches and more than 300 HR veterans analyzed the various levels of HR management such as corporate core talent incentive programs, training and development programs for the post-90s with Internet-based thinking, HRBP's core competitiveness, innovative performance management and development, and reservation and development of key talents, which presented a grand spiritual feast to the people present.
During this event, Vice President of ATA Mr. Sun Yue attended the roundtable forum themed "Talent reserve strategy for the transformation process". He said, "In the era of big data, the precision data attribute of talents is becoming more and more prominent. Endowing every candidate with data label and attribute of the results and process through testing and assessment will make it more scientific and efficient for enterprises to recruit talents, train talents and develop talents. ATA's products in talent assessment, including products for personality assessment and capability assessment, are an important part in talent evaluation process." Meanwhile, based on ATA's classic cases – unified testing services for campus recruitment involving the five commercial banks, namely, Bank of China, Agricultural Bank of China, Industrial and Commercial Bank of China, China Construction Bank, and Bank of Communications, as well as joint-stock banks such as China Merchants Bank, Mr. Sun analyzed the current talent reserve strategy of large enterprises.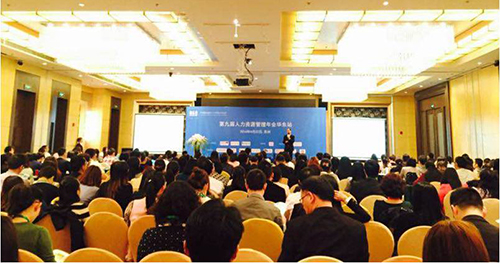 Leveraged on 17 years of experience in core technologies and capabilities developed in testing and assessment, ATA has been providing large-scale unified computer-based testing services for large financial enterprises and state-owned enterprises over the past years. At the same time, under the current background of Internet economy and big data, ATA has made use of its core technologies in computer-based testing, and successfully created its cloud-based online testing and assessment system, which has cut cost and improved efficiency for talent selection of many enterprises. At the event, the HR managers present communicated with ATA's staff about professional and efficient testing and assessment products and services. The latter also answered questions about talent selection in campus recruitment, social recruitment, and internal promotion.
As China's leading testing and assessment service provider, ATA will continue to commit itself to helping test sponsors and recruiters to improve their capabilities and efficiency in talent review, selection, evaluation, and management, to change the future recruitment industry and market, and to promote the in-depth integration between talent and big data operation and its rapid development.
(If there is any inconsistency or conflict between the English and Chinese version, the Chinese version shall prevail.)