Recently, the "College Majors Matching Degree Test" product independently developed by Academic Assessment Authority (AAA) was officially launched on Baidu's education platform – Baidu Jiaoyu. It is the first time that AAA has strategically joined hands with Baidu Jiaoyu to conduct testing and assessment for the college entrance application process, and it is also the first testing and assessment product independently developed by AAA for its individual customers.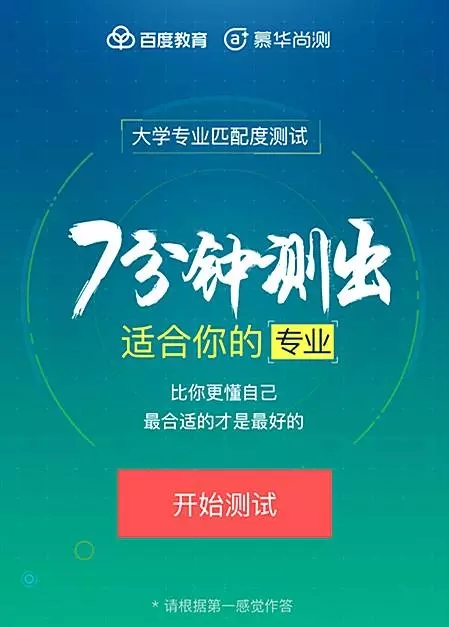 The "College Majors Matching Degree Tes" is a testing and assessment product that AAA's R&D team has spent a whole year in studying and developing through multiple rounds of field researches on colleges and universities. The evaluation technologies (including cognitive analysis and neural networks) applied in the testing and assessment process can significantly shorten the testing time – it will take only seven minutes to precisely evaluate the matching degree between personal traits and learning requirements for college majors in terms of knowledge, brain, and interest. This will be helpful in recommending a major more suitable to a candidate, and will provide them with a more solid reference when they fill in their college entrance examination application forms, so as to prevent from selecting college majors based on test scores and experiences only, and, through testing and assessment, address the issue of "life-forming selection" in college major application.
The college entrance examination ("Gao Kao") is approaching in China, and many Chinese people deem it as a "decisive moment" in their life time. How to select a proper college major is a question that is even more worrisome than test scores for candidates and their parents. "Select the major based on test performance or personal interest? Any special requirements for this particular major? Feel comfortable about the teaching method of the major?" – these are the questions that candidates and their parents should know in the first place.
According to a survey result, 42.1% of college students are not satisfied with their majors, and nearly 65.5% of them express willingness to choose another major if they had the second chance. The reason behind it is lack of comprehensive analysis of their interest, capability and personality before they fill in the application forms.
Based on this phenomenon, the "College Majors Matching Degree Test" is expected to match each candidate's personal traits with learning requirements for a particular major, and recommend every one of them a more suitable major, avoid poor learning performance caused by major selection based on test scores and personal experiences only.
•What is the rationale behind the testing product?
The test is designed to evaluate an individual candidate's accumulated knowledge relating to a particular major (knowledge index), efficiency in knowledge reserve and logic/angle in thinking (brain index), and preferences in primary concern, communication mode and behavior pattern (interest index) from multiple perspectives based on the candidate's personality, interest and adaptability in learning required by the interest pattern theory, career development theory, personality trait theory and social learning theory, allowing them to have a thorough and correct understanding of themselves and matching them to the learning requirements of a college major.
The criteria for selecting candidates of a particular major is developed by a team of experts who have conducted an in-depth analysis of 92 disciplines and 506 majors in China by employing textual analysis, expert grading, case study, and data analysis, entered into several panel discussions on various types of colleges and universities, and summarized the learning requirements for each and every college major.
•What are the target customers?
The "College Majors Matching Degree Test" applies to senior high school students. For grade-10 and –11 students, the test can help them strengthen their self-perception, adjust their directions for test preparation, and know what efforts they should make for their favorite majors; for grade-12 students, the testing can prevent them from inappropriate application for a major and ensure they have willingness and pleasure in learning after they are admitted.
•What are the primary features of the test?
It is easy to take the test, and only 7 minutes are needed to complete the testing;
The testing result is very targeted and instructional. It will give suggestions and quantitative scores for the college major applied for, and can be used by candidates when they fill in their application forms;
The test result gives various angles for interpretation and helps a candidate to learn the matching degree between his/her personal traits and the college major.
Academic Assessment Authority
Academic Assessment Authority (AAA) is a third-party education evaluation company dedicated itself to providing education authorities of various levels, colleges and universities, primary schools and high schools, and individual customers with abundant evaluation services including developmental academic evaluation, academic potential testing, and personal quality testing and assessment. Formerly known as ATA Testing and Assessment Research Institute, it has been committed to the research and innovation of testing and evaluation technologies and theories for seventeen years. Adhering to the concept of "Evaluation Drives Education", the company has accumulated years of hands-on assessment experience and massive data in the field of education evaluation.
Baidu Jiaoyu
Baidu Jiaoyu is China's largest online education resource platform, which contains 180 million specialized documents, 100,000+ selected books, and 50,000+ popular courses. Founded in December 2015, Baidu Jiaoyu consists of three business lines: Baidu Library ("Baidu Wenku"), Baidu Reading ("Baidu Yuedu"), and Baidu Courses ("Baidu Chuanke"). The platform will put its future focus on developing excellent content and experience, bringing tailor-made learning programs and resources to all its users, and providing schools, universities and organizations with intelligent resources management and marketing solutions by employing Baidu's state-of-art technologies such as artificial intelligence, big data and education cloud.