At the awards ceremony of the 2017 China Recruiting and Staffing Value Awards held in Shanghai on July 13, ATA Online was granted the 2017 China Recruiting and Staffing Solution Provider Value Award-- Top 6 of Assessment Solution Providers in China for its professional services, brand reputation, and influence in the recruitment and assessment industry, highlighting its leading position in the recruiting and staffing field.
At the awards ceremony, Mrs. Hao Ping, Vice President of ATA Online, delivered a keynote speech titled "How to Improve the Assessment of Recruitment Results".
Sponsored by China's largest HR member organization HREC (HR Excellence Center), the selection results of the 2017 China Recruiting and Staffing Solution Provider Value Awards are finally determined by the information submitted by the service provider and the authentic user data of the owner. The event has been recognized as a most influential and trustworthy brand in China's HR field for its authoritativeness, rigor, fairness, justice, openness, and public welfare.
During the selection process, heads of the recruiting and staffing department of 500 companies who have passed the real-name authentication were invited to participate in the survey in terms of market reputation, market share, and brand recommendation.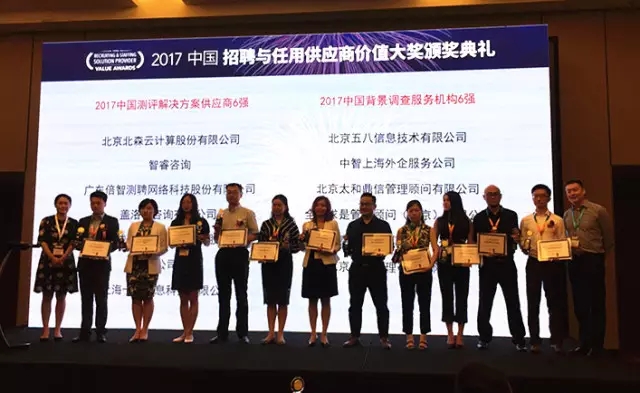 ATA Online's winning the above-mentioned honor also perfectly demonstrates its strength and the quality of its services and products.
As a constant trail blazer in developing services in enterprise talent recruitment, campus recruitment, and assessment, ATA Online has long been focusing on the campus recruitment testing service market. With its advanced testing technology and powerful delivery service capabilities, ATA Online has provided comprehensive solutions, testing technology, and delivery services to the talent recruitment and campus recruitment testing of almost all banks and hundred of enterprises in China. Meanwhile, as a leader in China's testing and assessment, talent recruitment and assessment and other HR service fields, ATA Online, based on its exclusive ATREE talent assessment concept, EPI independently developed by itself, ATA professional style assessment and many other assessment products, has provided scientific, authoritative, and leading solutions for campus recruitment, social recruitment, internal promotion, and post title ranking in many HR management fields including talent recruitment and assessment. It has also helped clients to achieve more efficient and accurate talent recruitment and selection, thus receiving high recognition and support from them.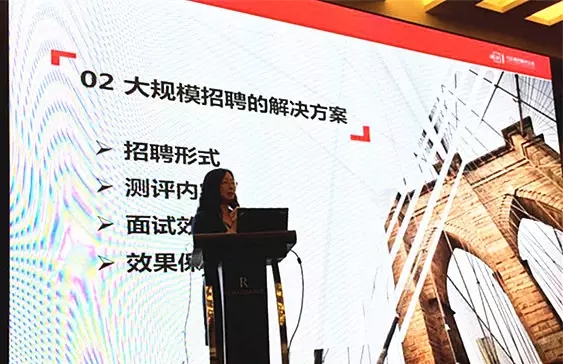 By presenting successful cases in her keynote speech titled "How to Improve Recruitment Results Through Assessment", Vice President Mrs. Hao Ping shared with the guests present the solutions to the challenges and problems that enterprises may encounter in large-scale recruitment. In addition, she also introduced the R&D concept of ATA's assessment tools and the cases of their successful application. At the same time, with practical assessment reports, she explained the important role of assessment tools in recruiting activities. Her keynote speech received high attention and warm response from the guests present.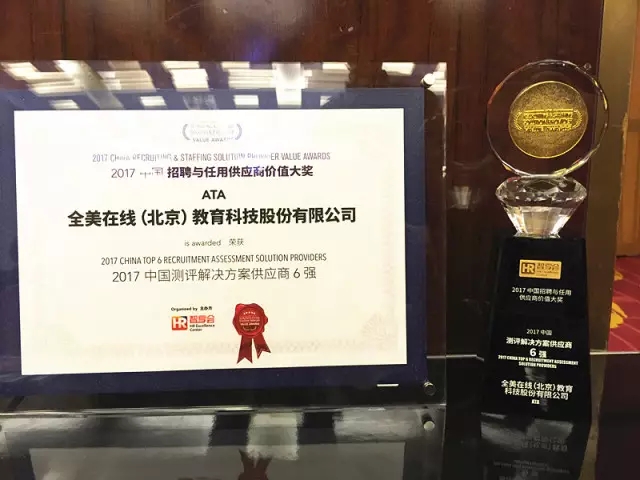 After winning the honor, ATA Online will advance along with its clients and partners with more professional and quality services. In the future, ATA will continue to grow alongside with its clients and help more enterprises in China to achieve scientific, fair, accurate and efficient talent selection through constant pursuit of innovative technologies and perfect services.